Hamden, New York, Delaware County, in the foothills of the Catskill Mountains.
WELCOME TO THE UNOFFICIAL WEBSITE OF
HAMDEN, NEW York
ESTABLISHED 1825

(Including the Hamlets of Hamden and DeLancey)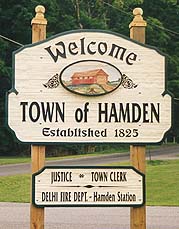 Wayne E. Marshfield, Supervisor
Rosemarie Bryden, Town Council
Ryan Kilmer, Town Council
Bernard Nocella, Assessor

Gabrielle Buel, Town Historian
(607)746-6625 relles@catskill.net
P.O. Box 67, Main Street, Hamden, New York 13782
§
§
ICE CREAM RUN

§
Hamden
Olde Home Days

Hamden Town Hall
Watch this space for information!
§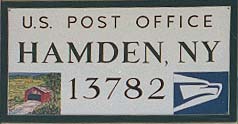 In and Around Hamden
Conveniences, entertainment, restaurants
and other odds and ends.


Thanks for visiting! Check back soon.
Comments?
---

Copyright © 1999 by P.J. LaBrocca. All rights reserved.
Web Site Design by LaBrocca.
http://labrocca.com/