Add accents & special characters to your text with a single click.
The easiest way to type accented characters, special punctuation and special symbols.
| | |
| --- | --- |
| Foreign Language Software for Windows XP/2000 | |
Axcèntz! floats above your application ready for action. When you need a special character just point and click. Then resume typing right where you left off.
Axcèntz! allows you to easily enter:
Accented characters: Ê, ñ.
Special punctuation: ¿, ¡, ", ".
The euro symbol: €.
Preformatted layouts for French, German, Italian and Spanish.
Preformatted layout for math and science symbols: ÷, µ, ±.
Preformatted layout for editing and currency symbols: §, ¶, ®, ¢.
All of the WindowsTM extended characters.
Screen Shots of Axcèntz!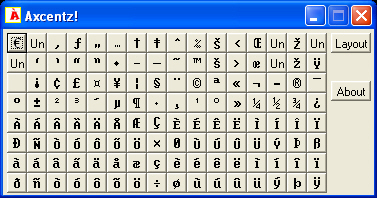 All of the special characters available in Axcèntz!



The Italian layout.



The Spanish layout.



The French layout.



The German layout.



The Editing, currency and other layout.



The Math, science layout.
Download Axcèntz! - Free!
You can download and use Axcèntz! for free for non-commercial use.
Download
Installation
Save the download in any folder. Unzip it if you downloaded the Zip file. To run Axcèntz! double click it. To create a desktop icon right drap the file name to the desktop and pick Create shortcuts here. The Axcèntz! application is completely self-contained and makes absolutely no changes to your computer.
To Uninstall
To uninstall Axcèntz! simply delete the files.
System Requirements
Windows XP (Professional or Home)/2000 and above.


http://labrocca.com/
Copyright © 2005 by P.J. LaBrocca. All rights reserved.
Axcèntz! is a trademark of P.J. LaBrocca.
02/19/08